In the span of one week, Disney will release two films in two completely different formats: The New Mutants and Mulan. The New Mutants, Fox's long gesticulating 13th installment in its X-Men franchise, is an exclusive theatrical title. If you want to see it, you have to go to a theater or drive-in. Mulan is bypassing theaters altogether in countries where Disney+ is available. For $30 (on top of a $6.99 monthly subscription), people can watch Mulan at home. As long as they keep their Disney+ subscription, Mulan remains theirs to keep forever. Forfeit the subscription, forfeit the movie.
There's a reason no one, not even Disney, is focused on The New Mutants. The New Mutants is a burden, something that Disney inherited but wanted to shed. The film came with the 2019 acquisition of 21st Century Fox. If The New Mutants was a project Disney even considered pursuing in 2020, it would be delegated as a streaming (likely Hulu) exclusive; something to get people to sign up for or keep them subscribed to its general entertainment streamer. Remember what Disney did with Artemis Fowl, moving that dud to Disney+ as a streaming-only title? The New Mutants has similar energy, but apparent contracts made it impossible for Disney to dispose of the title on one of its streaming platforms.
(Ironically, the pandemic is the best thing that could have happened to Disney's New Mutants situation. The movie was going to fail spectacularly anyway. At least this gives Disney something to point at and yell, "It wasn't our fault a pandemic happened!" If anything, it slightly beats all our expectations.)
The New Mutants exists, but it doesn't represent the bang Disney is looking for as its movies start to be released once again. Mulan is. Mulan is the experiment that could change Disney's future. Can a blockbuster title be profitable as a premium video-on-demand exclusive? There are a ton of equations to take into account. Bypassing theaters can hurt the film's revenue prospects — but considering that Disney will take anywhere between 70 and 100% of the profit from Mulan's sale compared to the 60 to 65% cut Disney could make from a theatrical release, does selling enough "copies" make-up for that maneuver? I imagine Universal Pictures executives had a similar conversation when they made Trolls World Tour a premium video-on-demand exclusive title — a situation wherein Universal pocketed roughly 80% of the revenue, with 20% going to digital retailers.
Mulan becoming a Disney+ exclusive seems like a bigger deal domestically than it is globally. There are many countries that still don't have Disney+, including China, where the film was always expected to perform best. Mulan was always likelier to perform less domestically. Not poorly, just not as well. To really examine the situation then, let's focus on what it would take for Mulan to hit the same domestic box office gross as another live-action remake.
Guy Ritchie's 2019 live-action adaptation of Aladdin made $355.5 million domestically. The only way for Mulan to hit $355.5 million and ensure Disney keeps 100% of the profits is if people purchased the film directly via the platform's website. At $30 a pop, that would require roughly 11.9 million copies being sold. Disney has more than 60 million Disney+ subscribers around the world; if 20% of those subscribers are based in the United States, and all 20% of those subscribers purchase Mulan, then Disney would have made the same via its streaming platform domestically as it did with a movie like Aladdin.
[The caveat is that copies sold around the world in the other 18 countries Disney+ operates in — including parts of Europe and India — will contribute to the overall gross. But for the sake of this experiment, it's easier to try and work within the domestic gross margins.]
But it's not that simple. The above calculation is strictly dependent on Disney selling all 11.9 million copies of Mulan directly via a website portal. Selling 11.6 million copies isn't impossible, but all of those sales coming through a web portal is super unlikely. What if people purchase Mulan on Disney+ through a streaming device, like their Roku or Apple TV? That's how the majority of people in the United States stream their content, so this automatically becomes the likely scenario. Not to mention people who purchase it via their iPad or iPhone.
Most companies take a percentage of a cut for all in-app purchases — it's why Epic Games and an assortment of other companies are currently publicly fighting Apple over alleged unfair monopolization practices. Also, why WarnerMedia and NBCUniversal are at war with Roku and Amazon. Disney has to play by those rules, too. Now the equation changes. Let's say Apple takes 30 percent of a cut (this number could be lower as Disney is a big enough player to possibly negotiate, but again, for the sake of the example it works). For every $30 sale, the hardware company takes $9. That means Disney makes $21 off every purchase. Disney has to sell way more than 11.9 million copies to hit that same $355.5 million gross.
Disney loses out on 30% of the revenue, but 70% overall is still better than the 60-65% overall cut they could get through deals with the theater chains. This is not to say that's profitable — there are marketing costs, and other subsequent costs that have to be covered. Again, I bet Universal Pictures executives had this exact same conversation.
Still, Mulan is not an experiment to see if streaming will replace theaters — it's a test to see if people are willing to pay $30 for a high profile movie, to see if it will bolster subscriber numbers, and to see if it will reduce churn. Once Mulan is purchased, Disney+ becomes a storage unit. You have to pay monthly to keep that title in your collection. This is as much an experiment to see if a premium video-on-demand shelf will help its growing streaming business as it is a straight revenue play. We often treat conversations about Mulan's Disney+ exclusivity as proof that Disney is all in on one thing and anti-another, but that's not the right approach.
Theatrical releases are still integral to Disney's business. Mulan was always going to play better overseas, especially in China. And Disney is planning a full theatrical release in China where people are returning to theaters. The 800 debuted to a $75 million opening weekend; a re-release of Harry Potter and the Sorcerer's Stone did well for Warner Bros. These are excellent signs for both Disney and Warner Bros. who are set to debut their biggest films of the year so far, Mulan and Tenet, overseas shortly. Director Christopher Nolan told the Wall Street Journal that his commitment to showing Tenet in theaters wasn't "just an artistic choice," but an economic one.
"In the current industry in which we work, there's no path to profitability for a film like this that circumvents movie theaters," Nolan said.
That's the heart of this debate, and it's where one question sits: Can a $200+ million blockbuster movie ever achieve the same kind of profitability as a streaming exclusive? It's a good question, but Mulan isn't exactly a streaming exclusive. It's a streaming exclusive in countries where Disney+ exists, but in countries where Disney+ is not — like China — Mulan will get that full theatrical release. It's a hybrid exclusive. Mulan is a 1-2-combo, similar to Universal's new deal with AMC Theaters.
Look at the realities facing Disney (and other studios) right now: coronavirus cases in the United States continue to grow, and two of the country's biggest film markets — New York City and Los Angeles — aren't opening their theaters. Theaters that are opening are doing so under intense limited capacity restrictions. Like I noted in a previous newsletter, Disney executives biggest concern is they can't predict how consumer behavior may have shifted since the pandemic hit. They opened Disney World and thought people would flock to the parks. That didn't quite turn out the way executives hoped. Will people flock to theaters for Mulan? Tenet boasted an impressive $53 million opening weekend in certain international markets.
Disney could have kept Mulan as a theatrical-only title, but instead its choosing the best venues for its markets. Overseas — where theaters are open, people are going, and Disney+ doesn't exist — will get the big theatrical play. People stuck at home in countries like the US where they're already bingeing streaming content, and looking for something new, can spend $30 for Mulan. Should WarnerMedia have pulled a similar move and made Tenet an exclusive HBO Max title, for an additional cost, but lowered HBO Max's subscription price to drive more subscribers to a service executives are still figuring out? I think so!
To be as clear as possible: studios will take whatever revenue path is available to them. One of the bigger hurdles that Disney faces is pricing. Most premium video-on-demand titles rent for $19.99 and sell for $24.99. Other rental options are much cheaper. Disney is coming in and asking for $30 on top of an ongoing $7 monthly subscription fee to keep the movie. Choosing to raise a price that much could alienate a large portion of the audience who might be willing to spend $15 but not $30.
If $30 winds up being too high, and lowering the cost to $15 brings in 50% more customers, helping Disney reach the same goal but with a reduced cost, could that be something we see Disney pursue? Maybe. Disney could also use its Premier Access window as a go-between for movies that get a theatrical release and then move to Disney+ — a month in theaters, two months as a Premier Access title, and then available to all Disney+ subscribers. Statistically, theatrical releases best perform within the first three weeks of release — that's when Disney and other studios can move their titles to premium video-on-demand shelves. Essentially, Disney can better control traditional windowing practices and try its best to profit as much whenever and wherever possible.
I for one am fascinated to see what happens next.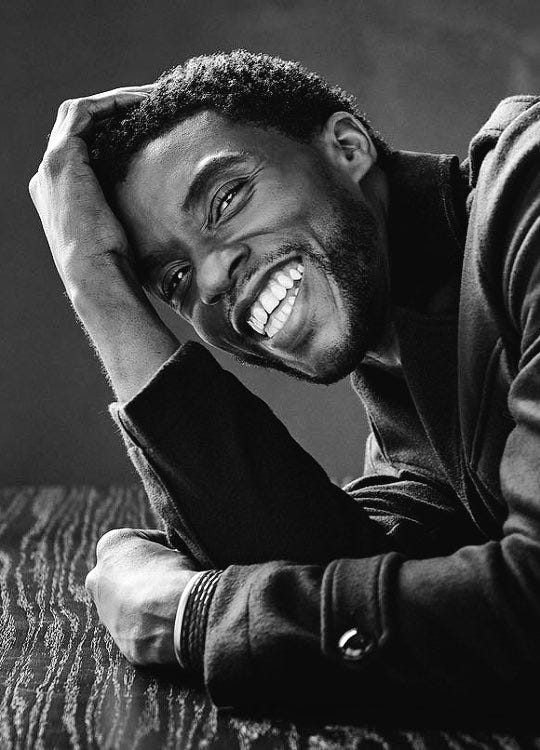 Rest in peace, Chadwick Boseman
I am not the right person to speak about this great man's life and career, but Black Panther director and Chadwick's friend, Ryan Coogler, is. Part of his tribute to Chadwick is below. The whole piece is on The Hollywood Reporter.
"I haven't grieved a loss this acute before. I spent the last year preparing, imagining and writing words for him to say, that we weren't destined to see. It leaves me broken knowing that I won't be able to watch another close-up of him in the monitor again or walk up to him and ask for another take.

"It hurts more to know that we can't have another conversation, or facetime, or text message exchange. He would send vegetarian recipes and eating regimens for my family and me to follow during the pandemic. He would check in on me and my loved ones, even as he dealt with the scourge of cancer.

"I think it was because from the time that I met him, the ancestors spoke through him. It's no secret to me now how he was able to skillfully portray some of our most notable ones. I had no doubt that he would live on and continue to bless us with more. But it is with a heavy heart and a sense of deep gratitude to have ever been in his presence, that I have to reckon with the fact that Chad is an ancestor now. And I know that he will watch over us, until we meet again."
Studios
Disney is developing a new Haunted Mansion movie
Katie Dippold, a writer best known for Sony's 2016 Ghostbusters and The Heat, is writing a new live-action film based on Disney's iconic ride. (The Hollywood Reporter)
The King's Man delayed to 2021
Disney has shuffled its lineup several times since the pandemic, and a new move has pushed The King's Man to 2021. The film was originally scheduled to open on September 18th, 2020, and now moves to February 26th, 2021. (The DisInsider)
Death on the Nile and Black Widow still on track for theatrical releases
Amidst the back-and-forth of "will this movie go to Disney+ or Hulu," two highly anticipated films are still on track for a theatrical release. Death on the Nile and Black Widow are still slated for their October and November release dates respectively. (CinemaBlend)
Luca gets a release date
With the shuffling of dates, we have confirmation that Luca, Pixar's upcoming coming-of-age movie about a boy in Italy, will hit theaters on June 18th, 2021. We only knew the June 2021 window prior to Disney's slate shuffling. (The DisInsider)
Streaming
Mulan will reportedly be available to all Disney+ subscribers for free on December 4th
Screenshots of the Mulan landing page on Disney+ show a new statement claiming that Mulan will be available to all Disney+ subscribers for no additional fee on December 4th. It's unclear if this was an accident, and Disney has since deleted the message, or if it was a placeholder date similar to products that appear on Amazon. I've reached out to Disney, but haven't heard anything back yet.
Disney+ gets episode tracking
A big complaint among Disney+ subscribers is the lack of episode tracking, meaning it's impossible to know where they left off. It now appears Disney+ has instituted episode tracking. Hurray for all of us who fall asleep while watching TV shows and lose our place every time. (Laughing Squid)
Thundercats lands on Hulu because cartoons are all the rage
Thundercats is now streaming on Hulu! Great news for all Thundercats fans, but an even bigger move from Hulu as the streamer continues its push into becoming a go-to streamer for cartoons, both new original series and classic favorites. (The Verge)
Parks
Disneyland is looking to reopen soon
Disneyland is among other theme parks in California that Governor Gavin Newsom is actively working with to open soon. Disney Parks heads claim that Disneyland has been ready to open since July, but there's no official date for a reopen yet. (Orange County Register)
Some Disney park changes will stay even when the pandemic subsides
Line reservations and mobile orders are just two of the initiatives that Disney Parks chief Josh D'Amaro says will remain as features inside the parks even when the coronavirus pandemic subsides. These were in the works prior to the pandemic, and the newfound reality has accelerated those initiatives. (CinemaBlend)
Disney Parks cast members receive extended furloughs
Emails were sent out to a number of Disney cast members who work at the parks informing them that their furlough period has been extended, based on emails I saw.

The emails note that, "When we initially notified you of your furlough, we could not have anticipated that it could exceed six months. However, due to business circumstances that were not immediately foreseeable at the time and given the unprecedented and ongoing nature of the pandemic and its impact on our businesses, we regret to inform you that we now reasonably expect your furlough could extend beyond six months of your initial furlough date."
NBA bubble update: Listen to Kyrie
James Dator has an excellent piece over at SB Nation about how difficult being isolated inside the NBA Bubble at Disney World has been for the players. Here's an excerpt:

"If the only thing the country was dealing with was the Covid-19 pandemic, the bubble would have been a much-needed distraction. Instead the violence of spring and summer proved we needed focus, not diversion. While the idea of playing basketball and elevating the Black Lives Matter movement was good in theory, there's little doubt now that isolating players in Orlando away from their communities took away from critical grassroots work that needed to occur." (SB Nation)
Media Networks
NBA ratings take a hit
The NBA is one of the few leagues back in action, but it still isn't getting the ratings they may have hoped for even under current circumstances. Weekday games have hurt ratings, but the weekends are underperforming, too. The first playoff games on ABC fel 21% in ratings and 23% in viewership compared to last year. Yikes! (Sports Media Watch)
Fall TV season update
My favorite expression about the upcoming fall TV season, which will look slightly different than other years (and likely less full), is "gently used programming." Streaming exclusives will head to broadcast networks alongside new seasons of popular shows and some new series. (The Hollywood Reporter)