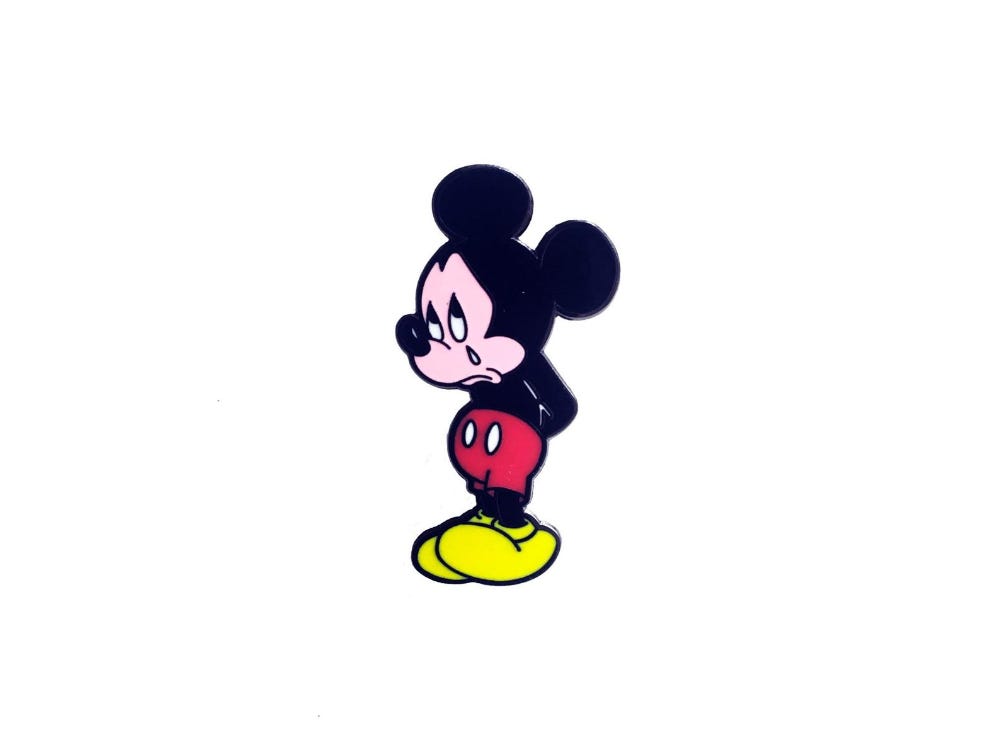 I was going to save this edition of the newsletter until the last week of December, but after Disney announced that Black Widow was moving to 2021, and Soul was pivoting to Disney+, everything I was waiting to see happen, well, happened.
It wasn't long after the NBA shut down and Tom Hanks declared he and wife Rita Wilson contracted COVID-19 that Disney's woes started. Week by week, things got progressively worse, leading many of us to say the same thing nearly every single day: "Imagine if this happened to Disney last year."
Disney's one bright side to this situation is that for many of its divisions, 2020 was going to be a slower year. The company's main goal was to grow its Disney Plus service, something that it's accomplished in record time. Its studio slate was far less ambitious than 2019 following Avengers: Endgame, Toy Story 4, Captain Marvel, Star Wars: Rise of Skywalker, and The Lion King — something former CEO Bob Iger told Wall St. analysts during an earnings call last year. Even Disney's Parks division, which was hoping to launch Avengers Campus this year, was able to get Galaxy's Edge and Rise of the Resistance off the ground, marking one of the biggest transformations to the Parks in years.
Imagine if Disney's 2019, one of its most historic years on record, happened this year? I do — often enough that I decided to go through it and try to see what would have happened if Disney had to face the COVID-19 pandemic hit last year.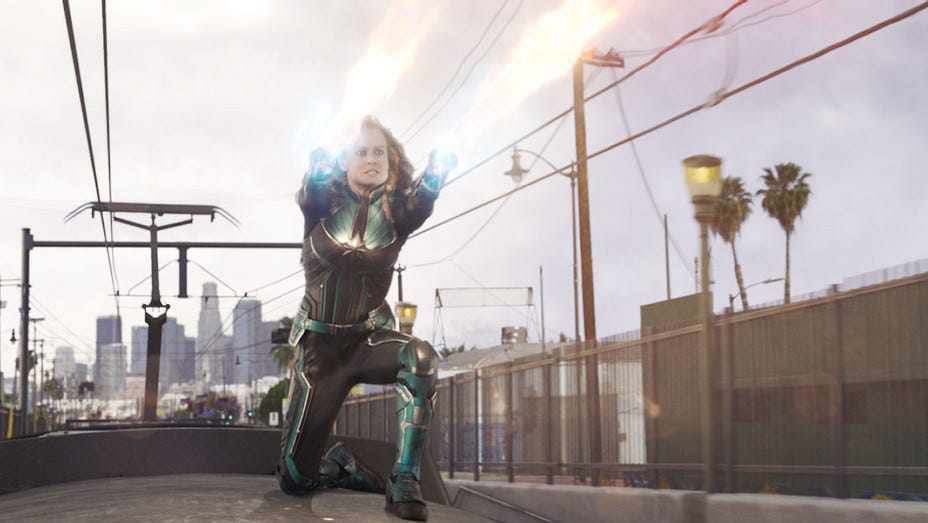 January 1st 2019 — March 29th 2019
The pandemic didn't really take hold in the United States until March 11th, 2020. By that logic, anything that was scheduled to occur beforehand, especially in January and February, was probably still operating at full capacity and with full attendance. Let's break it down by division:
Studios
Between January 1st and March 8th, Disney doesn't release any major films. The live-action Kim Possible movie debuts on The Disney Channel on February 19th, but otherwise it's pretty quiet until March 8th when Marvel Studios releases its highly anticipated Captain Marvel.
Captain Marvel comes out on March 8th, and while people in the United States are beginning to take note of the virus that has started to make daily national news, they're still not stopping life. The film continues to generate $153 million in its opening weekend in the United States. Globally, however, it's a different story. By March 8th, China was pretty much under lockdown and Italy was seeing massive spikes in cases. More than 500 theaters in China won't open again until March 23rd — but only for a brief time, after which the government requires another round of shutdowns. Meanwhile, theaters in Italy close just before Captain Marvel comes out.
It's not great for Marvel Studios or Disney. Captain Marvel fails to generate $90 million in its opening weekend in China. The film makes less than $200 million overseas instead of generating $300M+. By the time Captain Marvel is heading into its second weekend, much of the world is beginning to shutter. Captain Marvel is unlikely to clear $600 million, let alone make the $1.1 billion it made in 2019. Without a Disney+ up and running, Disney waits two months before pulling the film from theaters and selling it via traditional PVOD systems like Amazon and iTunes. Disney ends up pushing Dumbo back to June.
Parks
Similar to 2020, parks continue operating in the United States at a regular pace right up until March 12th, but the shutdown in Shanghai and Beijing continue. Disney CEO Bob Iger, who chooses not to step down as Disney prepares to enter one of its most turbulent periods in history, warns investors that Disney could lose out on hundreds of billions of dollars. Disney's executives turn their eyes to Galaxy's Edge, which is scheduled to open in Disneyland in May and Disney World in August.
Media Networks
The NFL continues its season on ESPN with a slightly increase in overall viewership for Monday Night Football compared to the 2018/2019 season. The NBA continues, but comes to a stop on March 11th. Advertisers pause spending as people scramble to figure out what this means.
Elephant in the room — 21st Century Fox acquisition
Other than Disney's studios slate, the biggest part of its business in 2019 that I think about often is its acquisition of 21st Century Fox.
The deal costs the House of Mouse more than $71 billion, including taking on $13.7 billion of net debt. Even in the regular timeline, the acquisition hasn't brought Disney any type of profitability. Industry insiders and analysts have asked what Disney's plans for the acquisition are; how does Chapek and the team turn a bunch of (if we're being honest) crappy assets into a goldmine? How do they Marvel Studios it?
In my re-imagined timeline, the decision to move forward with acquiring 21st Century Fox — a deal that got approved on March 20th, which would be smack down in the height of panic within the United States — is one that results in financial devastation. Part of the reason that Disney could take on the massive debt from the acquisition, and hold its head above water while dealing without any real return on investment for a few years, is because Disney's other businesses over performed. That's the Disney mentality: underpromise and over perform. But in this new timeline, Disney has to over promise ("everything will be fine!") while the company vastly underperforms in nearly every division.
So, to address the elephant in the room: does Disney move forward with the acquisition? I don't have any information to go on, but I have to believe they would have said "we can't do this right now." As Forbes pointed out, "M&A levels in the United States fell by more than 50% in the first quarter to $253 billion compared to 2019," adding that "executives of companies that would typically have been strategic buyers have been forced to redirect the focus and energy of their teams toward the immediate health of their own companies and away from longer term goals that include pursuing growth through acquisition strategies."
Now, with that said, and for the purpose of this experiment, there's one extremely vital reason why I think Disney would have completed the deal anyways, and we're going to move forward under the assumption that they complete the acquisition. We'll get to that in a second.
Loss: Q1 (December 2018 through February 2019) is minimal, but Q2 doesn't start off well.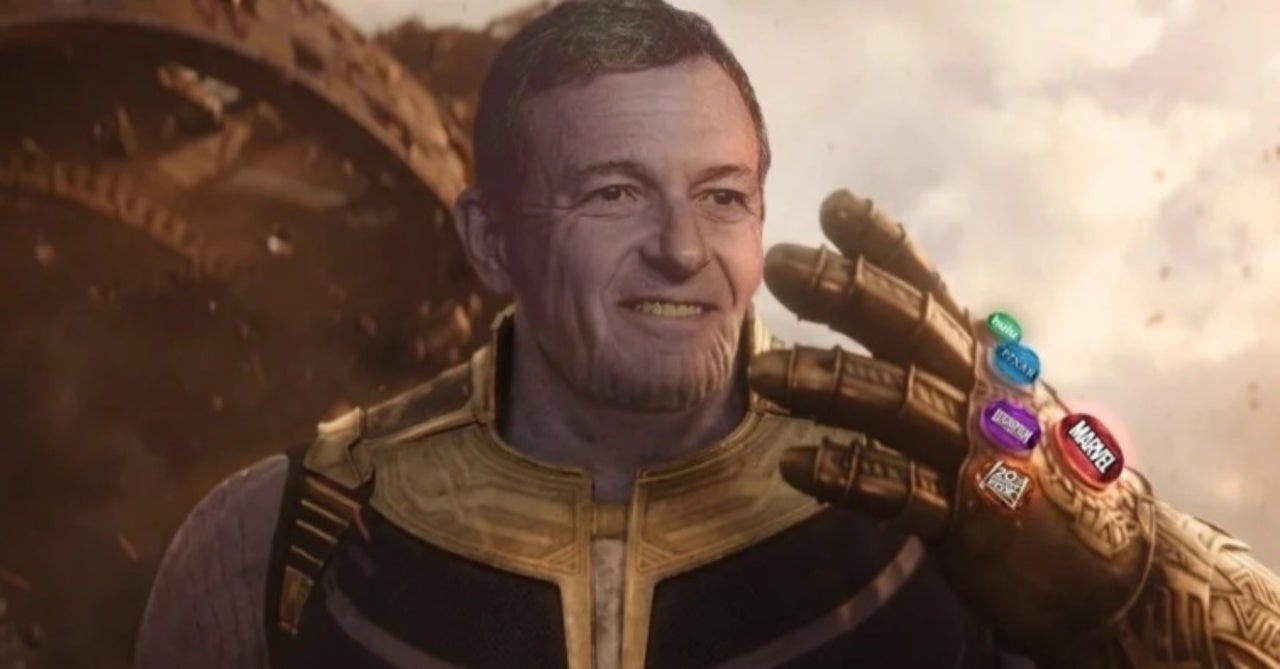 (I believe ComicBook.com made this art, so I want to credit them for this incredible image I use so often in conversations with pals.)
April 26th, 2019 — July 19th, 2019
Studios
By April 26th, Disney is officially in it. After losing out on approximately $500 million from Captain Marvel losses (losing out on China, Italy, and other European and Asian territories for its opening weekend), the biggest issue Disney is facing is its slate of high profile films. Between April 26th and July 19th, Disney is scheduled to release:
In pre-COVID times, Disney would have generated $5.6 billion within three months on four films. To compare, Disney made $4.2 billion within the same period in 2018 on the same amount of films, but including a Star Wars movie: Avengers: Infinity War, Solo: A Star Wars Story, Incredibles 2, and Ant-Man and the Wasp. In pre-COVID times, Avengers: Endgame becomes the biggest film of all time, surpassing Avatar.
In COVID times, everything changes. Avengers: Endgame is delayed until November — a period when Iger, Marvel Studios chief Kevin Feige, and the teams think that people might be willing to go back to theaters. Movie theaters are still closed, but executives are hopeful in March and April that things might resume soon as markets in Asia and Europe try to push for re-openings. That optimism is short lived as re-opened theaters in China shut down again in May.
Toy Story 4 moves to August, and The Lion King is delayed until October. Although it was supposed to come out after Endgame, Iger, Disney Studios Chairman Alan Horn, and Disney Studios head Sean Bailey decide that if they're going to take a loss on a film by releasing it in the summer when theaters are hopefully re-opened but audiences are still wary, they'd rather it be The Lion King than Endgame. Dark Phoenix, a movie that is essentially vaporware at this point, is delayed indefinitely. Sony Pictures also decides to delay Spider-Man: Far From Home one year into 2021.
The biggest change, however, comes from Disney's streaming division.
Streaming
Watching competitors like Netflix cash in as one of the only streaming services drawing people's attention, Disney shifts Disney+'s launch date to June 12th — five months earlier than expected.
After wrapping The Mandalorian's first season at the end of February, Disney throws post-production work into crunch time. The Mandalorian debuts as a weekly show on June 12th, and immediately takes over the internet. Disney+ reaches 15 million subscribers in 24 hours — five million more than it actually did as more people are stuck at home and looking for anything new to watch. Without the ability to film, however, Disney struggles to figure out how to add new programming to its top streaming service. Production on The Falcon and the Winter Soldier and WandaVision, two of Disney's most anticipated Disney+ titles, are delayed indefinitely.
After Dumbo undergoes a strategy shits and lands on Disney+ as a streaming exclusive launch title in June, performing well, Disney decides to move Aladdin to Disney+ over the Fourth of July weekend to hopefully bring people in. The concept of Premier Access is on their minds, but it's difficult to ask people to spend an additional $30 on a service they just decided to spend $7 a month on. Similar to Hamilton, Aladdin helps to bring in plenty of new subscribers. Disney shifts its focus to growing Disney+ faster than it ever thought possible as it becomes one of the only viable revenue streams.
As a result of Iger staying on as CEO to see the company through, Disney's head of streaming, Kevin Mayer, never leaves for TikTok. Disney's prince in waiting suddenly becomes an even bigger frontrunner as the next CEO.
It's here that Mayer and Iger's decision to finish the 21st Century Fox acquisition comes into play. The Simpsons becomes one of the most watched shows on Disney+ as people look for a new show to marathon. Stuck in a situation where Disney can't create any live-action originals while filming is shut down, Disney also backs away more quickly than ever about Disney+ only hosting Disney movies. Plenty of Fox-owned teen series and kids programming moves to Disney+ instead of Hulu. The goal is to compete with Netflix, who is ready to weather the year with a batch of new, original titles. On the Hulu front, Disney moves Tolkien, which it acquired as part of the 21st Century Fox deal, to Hulu.
Parks
As California cases skyrocket across some of the state's most populated areas, Governor Newsom bans Disneyland from re-opening. That would normally be devastating, but Disneyland is supposed to debut Galaxy's Edge, one of the biggest additions to the California park in years. The project, which started development in 2015 and construction in 2016, instead sits under a tarp without people able to get in. Disneyland is able to open some of its dining area, but the actual park remains closed for the duration of April, May, June, and July. Not operating those four months leads to more than a billion dollars in losses, at a time when Disney was expecting even better revenue than usual out of Disneyland because of Galaxy's Edge.
While Disneyland remaining closed is detrimental, Disney is able to re-open many of its locations around the world. Disneyland Paris, Shanghai Disney, and Disneyland Tokyo all re-open. Disney World, the company's biggest park, also prepares to open in Orlando, Florida. All are open under heavy restrictions, however, with many attractions and concession stands closed. Disneyland Hong-Kong is forced to close again to comply with government orders after a new spike in cases in May.
Media Networks
Nothing much changes for Disney's ESPN division and sports on ABC. NBA commissioner Adam Silver still works with Disney to pay the company roughly $250 million in order for the House of Mouse to play in a bubble. The NBA championships continue as usual, but my prediction — and I say this as a major Raptors fan — is that Kevin Durant never gets injured and the Golden State Warriors win yet another title. Without the championship, Kawhi Leonard doesn't move to the Los Angeles Clippers, and Toronto continues on with Kawhi and Kyle Lowry leading the team.
MLB also picks up, and continues to play games despite cases of COVID-19 infecting players from time to time. The NFL gears up for its return to primetime television. ABC starts to see a small increase in advertising revenue as companies flock to play their ads alongside games that people are tuning into. It's not enough to make up for the total losses the company is seeing, but it's one of the few positive signs Disney's had in months.
Loss: Disney loses more than 90 percent of its profit, and is stuck with facing a disappointing reality that its potentially record breaking year was rapidly circling the drain.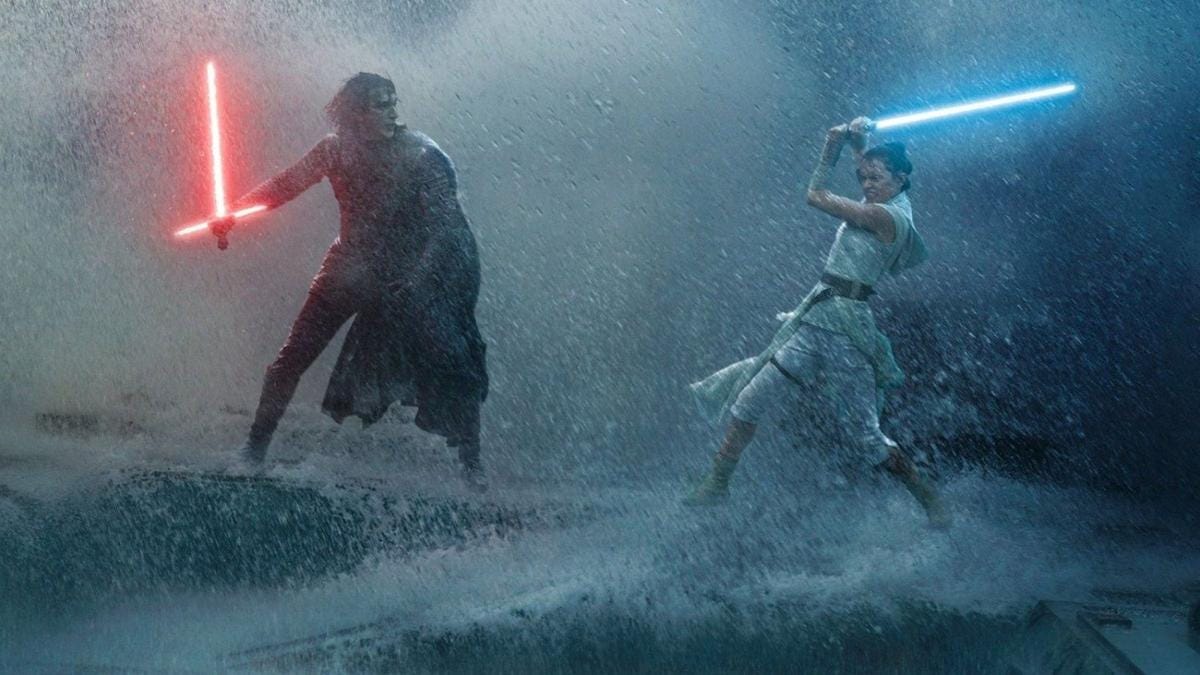 August 2nd, 2019 — December 19th, 2019
By August, people are trying to find some form of normalcy in their lives. Public parks are full of families and twenty/thirty-somethings trying to drink their days away. Some movie theaters are preparing to re-open, but with studios delaying most of their movies to later in the year or 2021, there isn't much for them to show. Instead, people find solace at drive-ins, watching some of their favorite past films. Disney World is open, but not performing the way Disney needs. Once again, the only part of Disney's world that continues to make any impact is streaming — and Disney decides to publicly go all in.
Studios
With no end in sight for the pandemic, Disney starts to make even tough decisions regarding the last of its films.
Artemis Fowl becomes a Disney+ exclusive, while Disney decides to move New Mutants, a film that no one thought would ever come out, to PVOD.
This leaves Disney with a quandary over some of its other titles, most notably Avengers: Endgame (moved to November), The Lion King (previously moved to August), Frozen 2, and Star Wars: The Rise of Skywalker. Disney automatically moves Endgame, Frozen 2 and Star Wars: The Rise of Skywalker to 2021, not wanting to take a risk on three of its biggest franchises. Big name investors like Dan Loeb's Third Point Capital push back against Iger and his team's decision, pointing out that Disney needs to pivot to being a streaming company, and should use the opportunity to release big pictures like Frozen 2 on Disney+ to see what the streaming service is truly capable of. In markets where Disney+ doesn't exist, the film could go to theaters, Loeb also argues.
Loeb's comments, and other feedback from investors and Wall St. analysts, leads to heavy internal debate. Disney+ is only a few months old, but the streaming service is already nearing 30 million subscribers by September, and is set to amass way more in the weeks and months ahead. More on that in a bit.
Left with virtually no films left to release in 2019, Alan Horn and his various reports including Kathleen Kennedy (Star Wars), Kevin Feige (Marvel Studios), Sean Bailey (Disney Studios), Jennifer Lee (Disney Animation), and Jim Morris (Pixar) focus on what their 2020 slate will look like. Most pressing is getting Endgame out the door. While The Rise of Skywalker represents a pausing point for Lucasfilm and Disney, Marvel Studios' timeline of films is dependent on the closure Endgame brings.
While Disney brass want to get Endgame out as quickly as possible to regain some form of lost profit, the bigger concern is what a continuous delay for Endgame will do to Black Widow, The Eternals, and Shang-Chi and the Legend of the Ten Rings. Marvel Studios faces years of profit loss. Still, no one is willing to take a massive loss on Endgame, and there are concerns that if theaters make it to 2020, Endgame may not make the profit Disney needs. Disney decides to move Endgame to April 2021.
Frozen 2 and Rise of Skywalker are both moved one year into 2020's November and December slots; Disney is forced to end on an empty note instead of the film that would complete the Skywalker saga. Disney's biggest burden on the Studios side, however, remains its acquisition of Fox. Disney decided to release Ad Astra as a PVOD exclusive in an effort to make some revenue, making it available for $20 on Amazon and iTunes. Ford v Ferrari still gets a limited theatrical release where theaters are operating in order to ensure it's eligible for the 2020 Oscars. Terminator: Dark Fate is moved into early 2021, while Spies in Disguise is released via PVOD. Disney would have liked to move Spies in Disguise to Disney+, but pre-existing deals between 21st Century Fox and WarnerMedia's HBO makes that impossible to do.
Disney accepts that 2019, a year that could have brought in close to $15 billion through films alone, barely crosses the $1 billion line. It works out to a series of major, thorough losses for Disney's Studios division which spent much more on marketing for a number of its films supposed to come out that year.
Streaming
With most of the titles figured out, there are a few that Disney decides to experiment with via its new streaming portal. The Lion King becomes a Disney+ exclusive and the first Premier Access title. Unlike Mulan, which was marred by controversy, The Lion King performs slightly better, but not enough for Disney to think of Disney+ as a viable replacement for theaters. It isn't a failed experiment, but it's not one Disney is looking to replicate for the rest of the year.
By mid-December, Disney+ has reached 60 million subscribers — an unprecedented growth helped by the pandemic. The company gets kudos points from Netflix CEO Reed Hastings and others within the industry who are floored by its growth. Within the span of six months, Disney hit its lowest target goal for 2024. But Disney+ is now running into its biggest issues that Disney is unsure how to handle — a lack of new, interesting content to drive new subscribers in the United States and keep them subscribed.
Disney is faces a devastating churn wave. Analysts estimate that Disney+ daily usage has begun to decline by 25%, as people now several months into staying at home during the pandemic are desperate for new content. They're all turning to Netflix. A study commissioned by HarrisX finds that 18% of current Disney+ subscribers who signed up via promotional giveaways are unlikely to stay subscribed, while 37% of people are unsure. It's here that Disney executives begin to worry; without sustained investment and new content coming to Disney+ regularly, the risk of heavy churn begins to weigh.
In an effort to show investors just how committed Disney is to its streaming business, the company changes Kevin Mayer's title to simply head of entertainment and media, letting his colleague Rebecca Campbell take over the international aspect of Disney's business. While studio and network heads will continue reporting to Iger, Mayer has more power overseeing what could and should go to Disney+, Hulu, and ESPN+. This doesn't fix the immediate need for content — production remains shut down in most of the world, leading to heavy crunch time for animators who can deliver animation packages for Disney+ — it makes investors and shareholders feel slightly better.
The biggest change Disney makes in an effort to retain customers in the only division producing meaningful revenue is licensing content. Although Mayer reiterated prior to the pandemic and Disney+'s launch that Disney+ would rely solely on Disney's core franchises and some 21st Century Fox programming, without new content coming in and competing against Netflix's continued output, Disney begins licensing a small batch of shows.
It works. The number of kids and teen shows Disney brings over — plus the consistent adding of titles from Disney's newly acquired 21st Century Fox library — is enough to renew interest from people who haven't tuned into the streaming service since The Mandalorian ended, and Disney sees an immediate increase in daily usage again. Disney isn't likely to continue licensing once production on its anticipated shows, including The Falcon and the Winter Soldier and Star Wars' Obi-Wan series kick off, but for now, it's the perfect bandaid.
Disney ends the year with 62.5 million Disney+ subscribers, generating billions of dollars in revenue. It's still not profitable.
Parks
Disney's most lucrative division for decades is now a money pit for House of Mouse.
Although Disney World was able to open, without a strong response from consumers and with overbearing costs that come with operating the parks even at a reduced capacity, Disney is forced to lay off tens of thousands of employees. Disney World also isn't able to open Galaxy's Edge or its expensive new Ride of the Resistance attraction. Executives were banking that Galaxy's Edge, alongside a newly revamped Hollywood Studios park, would bring in more tourists and guests than it's seen in years. Instead, it's difficult to get non-diehard fans and local families out.
The company also decides to close Disneyland for the remainder of the year as California Governor Gavin Newsom is reluctant to allow Disney to operate at any point in the near future while cases continue to spike. Disney World remains open, but on a much more restricted basis. Guests must sign up for certain times at certain days, ensuring that Disney can operate the park at capacity and make the most out of the situation.
Disney's parks overseas fare a little bit better. Tokyo, Paris, and Shanghai all continue to operate under a limited capacity. All holiday events are canceled and capacity is reduced even more to ensure social distancing measures are met, but attendance is up internationally compared to the domestic parks. Cruises remain closed for the foreseeable future, although Disney continues to work on ships that it wants to debut in seas beginning in 2022.
Disney's Parks and Experiences division, a division that used to bring in ~$20 billion regularly, barely scrapes by $3 billion for the entire year. It's an enormous loss that makes Disney pivot even harder in public calls and behind-the-scenes to building its digital empire. Parks and Experiences won't improve until a vaccine is found and, even then, Iger and his team, including the company's current head of Parks, Bob Chapek, continue to worry that consumer behavior has radically shifted to a point of no return. Parks becomes a big question mark. Testing what might help get people into parks goes into overdrive at Disney's Tokyo and Paris locations.
Media Networks
Although advertising picks up slightly on Disney's-owned networks, which now include FX, but the company is staring down a barrel of production delays leading to a heavily reduced fall TV slate.
ESPN is one of the few networks that remains current. The NFL picks up and Monday nights are back, as other sports figure out how to keep games going now that there's precedent from the NBA and major league baseball. While cord cutting continues, which ESPN and Disney executives have prepared for over the last several years, it's one of the few networks that Disney heads don't have to worry about too much from a content perspective.
ABC and FX are big strugglers. Disney starts to participate in what the industry refers to as "gently used programming." The company takes international, English-speaking shows from Canada or the UK, and airs them as "new" programming on their networks. Disney also continues to accelerate FX's transition as creating programming more exclusively for Hulu.
All priority is on growing Disney's streaming brands, and using the slate of content FX does have to grow Hulu domestically becomes a priority for Mayer. Although this leads to tension between Mayer and FX head John Landgraf, an executive who still believes in the power of linear television and quality over quantity (something that streaming services tend not to prioritize as the need for constant content leads to stronger output), both parties understand that any revenue path is vital right now.
Disney tries to make the best out of the situation, but without an election to bring in more viewers or any notable programming outside of sports, viewership declines overall, and cable subs fall even more, but advertising sees some return to life. Disney tries to move that advertising boost over to Hulu, rolling out new ad tech much earlier than expected and with promise of increased attention on SVOD platforms remaining in the months to come. Still, the company begins its Fall season on television already on the decline.
Losses: Disney considers the year a total wash. Forced to carry exponential debt into an empty 2020, executives prepare for near ruin.
Wrap up
Disney allowed its 2020 to feel a little more empty because its 2019 was even more packed than usual. It was a period that let Iger feel comfortable enough to step down, a time for Disney to focus on growing its new businesses, all under the security of a powerhouse 2019. Executives could wipe the sweat from their brow because their movies alone made $13.2 billion in 2019.
As I said earlier, Disney is a company that under promises and over performs. That's become harder to do in 2020. Disney managed to make it through 2020 because the company was cushioned by a record-breaking 2019. Had Disney not had 2019's success, heading into a period of financial ruin for endless months would have been even more cataclysmic.
Imagine if this happened to Disney last year.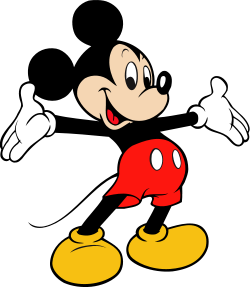 *Update Note!
I'm very excited to announce that Musings on Mouse is going to start publishing a second issue every two weeks. I'm launching an interview series! This will include interviews with former Disney people, analysts who cover Disney, reporters who cover Disney, ultra fans, and everyone in between!
The first installment of Conversations on Mouse kicks off 10/29! These issues will be much shorter, and stylized like a Q&A format. Is there anyone you're super interested in hearing from or a topic you're interested in learning more about? Let me know!